Savukoskelta 15 kilometriä Kemijärven suuntaan, keskellä kauniita maisemia, erämaan rauhallisessa hiljaisuudessa, puhtaiden vesien äärellä sijaitsee Marjasuvannon Lomamajat.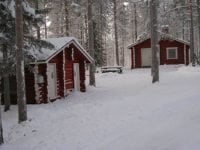 Holiday cabins and -villages, Tourism, accommodation and restaurants
Katso tarkemmat tiedot verkkosivuilta
Marjasuvannon Lomamajoilla on vuokrattavana siistejä, kotoisen lämpimiä mökkejä. Mökeissä on omat rantasaunat, takat ja tarvittavat astiat.Ympäristössä mm. hyvät marjastus-, kalastus- ja metsästysmahdollisuudet.