Savukosken leirintäalue, Joulupumuorin Tupa sijaitsee kosken partaalla Savukosken keskustassa, kauniilla paikalla. Valitse sinulle sopivin monipuolisista majoitusvaihtoehdoistamme, nauti kauniista luonnosta ja rentoudu illalla rantasaunassamme.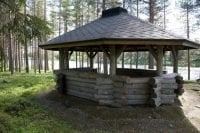 Cafes and confectioneries, Campsites, Holiday cabins and -villages, Tourism, accommodation and restaurants
Joulumuorin tuvan kahvio/pubi ja Savukosken leirintäalue. Kahvila A-oikeuksin, matkamuistomyymälä, hotellitasoisia huoneita, mökkimajoitusta, caravan- ja telttapaikkoja, rantasauna, kota ja tulipaikka. Kalastuslupia, kanoottien ja maastopyörien vuokrausta.