Lyytin Pubi ja Puoti on arkielämän palveluiden keskus. Meiltä löytyvät postin ja matkahuollon palvelut sekä kioski, veikkauspiste ja baari.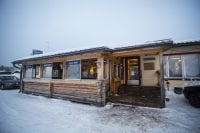 Bakers' wares, Bars and pubs, Kiosks, Lunch restaurants, Post and matkahuolto, Shop and services, Tourism, accommodation and restaurants
Lyytistä löydät päivittäisen elämän palvelut ja illanviettojen sykkivän sydämen
Lytti's shop and pub is a versatile service center in the middle of the church village of Savukoski. Here you will find a kiosk, betting point, postal services and Matkahuolto. On the pub side, coffee and buns, refreshments and A-licensed alcoholic beverages. Pastries to order, such as cakes, sandwich cakes, etc.