The Sotajoki cottage yard in Tulppio, Savukoski, in the middle of East-Lapland, is ideal for independent use by fishermen, hunters, sledges, nature photographers, various groups and camp schools.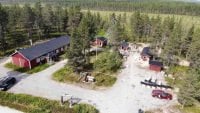 Holiday cabins and -villages, Hunting and fishing, Leisure, Room accommodation, Tourism, accommodation and restaurants, Wilderness cabins, huts and reservable huts
Tervetuloa Sotajoen kämppäkartanolle!
Petipaikkoja löytyy viitisenkymmentä. Lisäksi käytössä on wifi, melko nykyaikaisesti varusteltu keittiö kahvin- ja vedenkeittimineen, jääkaappeineen, pakastimineen, liesineen, mikroineen ja astianpesukoneineen. Rakennuksessa on myös erilliset kuivaustilat, sisävessat ja isolla puolella myös suihku.
Kartanon sydämenä on suuri savottahenkinen tupa Jänes, jossa mahtuu ruokailemaan ja oleskelemaan kerralla jopa 25-30 henkeä.
Pihapiiristä löytyvät kelohirsinen saunarakennus, puuliiteri, grillikatos, tulipaikka ja puucee. Koirille on kopillisia tarhoja ja juoksulankoja.
Kämppäkartanoa vuokraa vuoden ympäri kaikille halukkaille Sotajoen kämppäkartanon pystykorvat ry. Yhdistys on perustettu edistämään suomalaista eräkulttuuria sekä osin vaalimaan myös menneiden aikojen savottahenkeä.
Yhdistys toimii perinteisten suomalaisten haukkuvien lintukoirien, kuten suomenpystykorvan ja pohjanpystykorvan rotupuhtauden ja jalostuksen edistämiseksi.
Yhdistys järjestää linnunhaukkukokeita Tulppion ja Vintiläkairan maastoissa joka syksy.
Tiedustelut:
Sotajoen kämppäkartanon pystykorvat ry:n
kämppäisäntä Jukka Korhonen p. 0447499350 jukka.korhonen@tervo.fi
puheenjohtaja Hannu Korhonen p. 0405826694 hannu.korhonen@gradia.fi